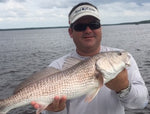 Permits, Licenses, and Epic Fishing Tales With Eric Leech
September 12, 2023
In this episode of the podcast, the host and guest, Eric Leach, delve into their shared passion for fishing and their experiences on boats. Eric fondly recalls his upbringing in Fort Lauderdale, where he spent countless hours fishing with his dad. They owned a variety of boats, including center consoles and flats boats, allowing them to explore different fishing styles. Eric's father's role as the president of IGFA (International Game Fish Association) opened doors for him, exposing him to fascinating fishing stories from around the world.
Curious about Eric's fishing background, the host asks if he also enjoyed pier fishing. Eric explains that as he grew older, he gravitated towards bridge fishing for snook. Balancing family, work, and other responsibilities, he found it challenging to find time for fishing during the day. However, he managed to steal a few hours at night to indulge in his passion. Eric notes that bridge fishing for snook has gained popularity, and he has friends who exclusively fish at night, achieving great success using simple techniques like using crabs as bait.
The conversation briefly shifts to the boats they currently own. Eric proudly mentions his 61 Viking named the Miss Elizabeth, which he has been enjoying for the past two years. The host recalls Eric's boat in the Dominican Republic (DR) and confirms that it is the same one.
Overall, the engaging discussion between the host and Eric provides valuable insights into their personal fishing journeys. They touch upon the types of boats they have used and the various fishing techniques they have explored.
Later in the episode, Eric shares his aspirations of living a life free from financial responsibilities and constantly traveling on boats. He reveals that after graduating high school, his ultimate goal was to be on a boat that allowed him to explore different places without the burden of alimony, car payments, mortgages, or any other financial obligations. Eric expresses his excitement about the freedom and adventure that comes with being on a boat, particularly the joy of spending time in the ocean.
However, Eric acknowledges that his perspective on fishing has shifted since starting a family. With the arrival of his wife and kids, his days quickly fill up with their activities, such as sports and homework. Despite this, he still manages to carve out time for fishing, even if it means sacrificing a few hours of sleep. Eric admits that having a family has completely changed his outlook on life, including his fishing pursuits. He refers to certain times of the year, like Christmas break, as "selfish season" when he can indulge in his passion guilt-free. It is evident that while his priorities have shifted, Eric remains committed to finding ways to incorporate fishing into his life.