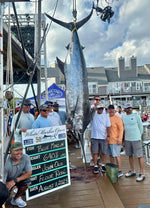 Winning the White Marlin Open With Dave Waren
September 09, 2023
In this episode, the speaker, Captain Big Wave, shares his journey from being a bottom fishing mate on head boats to becoming a successful captain. He talks about starting in Daytona Beach and how his love for fishing began at a young age. He also discusses his time in college and a surf trip to Hatteras that led him to discover the Oregon Inlet Fishing Center. Tune in to hear more about Captain Big Wave's career in sportfishing and the hard work that has paid off.
Winning the White Marlin Open, Captain Big Wave was onboard the Floor Real when he hooked the 640-pound Blue Marlin that John Old fought to win the White Marlin Open in 2023, catching a fish worth $6.2 million. In the podcast, he describes how he thought the fish didn't look that big, as the fish was also not showing itself, staying down deep. Measuring the covering board to be able to understand what 114 inches is. Once Captain Big Wave saw the fish roll up behind the boat, he knew it was the one, and so it was.
Don't forget to listen to the podcast to get all the insights on what went down and to understand Captain Big Wave's life story.
Please enjoy the full episode below:
You can also listen to the episode on the following locations: Youtube, Spotify, and Apple Podcasts