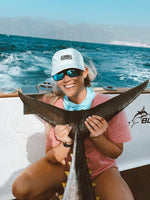 Sea With Katie
June 19, 2023
The State of Sportfishing Podcast features James LaGrone hosting Nicole and Katie as they talk about their love for fishing, specifically billfish. Nicole shares how she got into fishing in high school and fell in love with it after catching her first swordfish, which led her to keep a log of everything from currents to locations to baits. She also mentions trading babysitting services for sword baits with a family friend.
Katie left everything to move to Costa Rica and work on the same boat as her husband to learn everything about billfishing and mating, and says it's been the best decision of her life.
James LaGrone and Katie discuss what the best way to pitch with a 130 is, even though they both usually use light tackle. They also have some controversial thoughts on that.
Please enjoy the full episode below:
You can also listen to the episode on the following locations: Youtube, Spotify, and Apple Podcasts