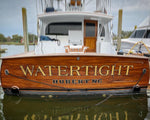 Jarrett Bay "WATERTIGHT" Sportfishing
March 30, 2023
Today we are joined by Alex Gallaher, a family that loves to fish, they also have a family-owned roofing company. On the boat Alex his brother is the Captain he does his part raising the fish, only the team needs to gain some more experience pitching to the marlins.
Their Jarrett bay is called "WATERTIGHT" having a roofing company is a pretty good name, maybe even a name to market their roofing company some could say. Before the Jarrett bay, they were on center consoles not really Marlin fishing, but Alex explains how fantastic his first Marlin sighting and catch was.
Listen to the full podcast to learn how Alex and his family went from zero to 100 in the fishing industry really quickly. Fishing every chance they get, meat tournament (king fishing) to marlin fishing.
Please enjoy the full episode below:
You can also listen to the episode on the following locations: Youtube, Spotify, and Apple Podcasts