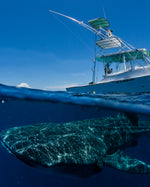 Isla Mujeres With Anthony Mendillo
April 24, 2023
Today we have Anthony Mendillo from the Keen M Charters in Isla Mujeres, Mexico. Anthony has been in Isla Mujeres for over 25 years. Growing up in Rhode Island moved to Florida after school to fish on a 43 Merritt which eventually brought him to Isla Mujeres to finally settled down in the Isla Mujeres.
Anthony is to be found every day of the season outside on the Ocean, where he says the Winter season is one of the best times to fish lately. Being the IGFA's international representative to the Yucatan Peninsula region.
Every Marlin for Anthony is like encountering his first Blue Marlin, screaming getting all excited rolling the teaser in it doesn't matter how many times you see it it doesn't get old and it will always get your heart pumping.
Isla Mujeres is one of the best places for a new angler to learn because it doesn't matter if you miss a fish or two because after 15 minutes a different fish will probably show up to give you another chance.
Catching 100 Mako sharks in 6 years together with Guy Harvey down in the Isla Mujeres is a great accomplishment.
Please enjoy the full episode below:
You can also listen to the episode on the following locations: Youtube, Spotify, and Apple Podcasts