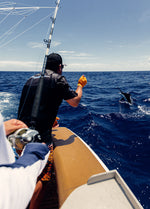 Conservation Side of Billfish
March 01, 2022
In this blog post Peter Chaibongsai, Anthony Pino & Nick Carullo Talk about harvesting billfish and the conservation side of things and what The Billfish Foundation does to make sure they don't harvest too many and too little ones. If harvested, also get research done on them to get to know the billfish better.
Peter Chaibongsai is the director of conservation program for The Billfish Foundation. We've added a short summary of a conversation we recently had with Peter Chaibongsai on our Podcast.
"Peter Chaibongsai: The US recreational fleet allows 250 billfish to be landed every year. One year we actually came fairly close. We came to about 220 landed billfish. We are more of a self-regulating and more proactive group. Once the billfish team realized what was going on and isolated the areas that this was happening a lot of the tournament director said, we're going to increase the minimum size by 2, 3, 4 inches for White Marlin, because it was mostly coming from White Marlin tournaments. That way we wouldn't come close to hitting the limit.
We have 250 billfish that are allowed to be landed within the Atlantic every year. As long as we don't hit that limit, our community is in good shape. If we do hit that, there are some really bad repercussions. We always want to make sure that we never do that. But you guys have all fished all these tournaments, we've all been on the docks and seen billfish coming in and that's fine simply because we never go over a huge amount at these tournaments. An awesome day in Florida would be catching one blue Marlin in a season, maybe.
The reason I bring that up is as a scientist and as someone that's looking at their conservation, sustainability for our sport and community, the base of our science comes from sometimes when these fish are landed. When we have scientists go to these tournaments, like the university of Southern Mississippi, like Jim Franks, who goes to all these tournaments in this, in the deep south, whether it's Biloxi or ECBC or whatever like that, where they take all these samples of fish and then it can actually produce science from that. The reason I bring that up again is because you look at all these other fish species. Whether it's things from tuna, snapper, wahoo or mahimahi, scientifically, we have a ton of data on them because they're easier to catch. Those species are targeted commercially. But when we're talking about billfish, we are still learning things to this day about them that are just very basic data, From just life, life history, to agent growth. That's why we still have that tagging program that Leo and maybe Nick, you know about. That's why we always encourage people to report whether just releasing their fish, just to report, because man, we're always learning stuff about it and we are TVA, but us anglers specifically are the leaders in conservation when it comes to reporting and giving data. It's super important to always get that data.
So I'll back up a little bit that's why I'm saying TBF (The Billfish Foundation) is all about responsible use and that's why we can support some of these modified release tournaments, because a lot of those and 99.9% of them that I know of that we're a part of, they produce science from it. They have scientists come, they collect all the data. I'll give you a great example. One of the tournaments that we went to a couple of years ago, they had a new jackpot for swordfish, huge and brought people from all over the place. I think it was like a quarter of a million dollars for top and winning a free car or whatever like that. It brought in a ton of swordfish and people were like, oh, I can't believe they're bringing in all this dead fish. One of my colleagues from another side, not the fishing side, but the scientific side was quite sceptical about this. I said, let me tell you something, we're going to get probably six to seven, maybe 10, 20 different scientists looking at all this stuff. We're going to get multiple publications. I'm going to tons of different things out there because of that. Once I gave him those hard facts, he was like, "oh yea, you're right". The point is that there's just not a lot of information on these species, therefore modified release tournaments which let scientists examine what was caught actually help a lot!
If you've enjoyed reading this blog post you can listen to the full conversation here: EP35