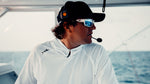 Billfisher - Third Generation Hooded Long Sleeve
April 26, 2023
Intro - our philosophy 
We like to think that in 2022 Billfish was reborn. We made a bunch of operational improvements, but more importantly we figured out who we are. We figured out that we want to be the best in the world at creating the lightest performance gear in the world and in doing so, show others what can be accomplished when a small group of dedicated people get together on a common mission to create revolutionizing products. We developed a product roadmap to achieve this goal.
Last year we embarked on Step 1 of that plan with the launch of our 'Teak' collection, a lightest-in-class product for people who value comfort and breathability. Since its release, customers have absolutely adored the Teak collection, so much so that we have been and continue to struggle with managing its inventory however we've been able to aid that by reducing the color options and going all in on our winners. 
In 2023, we are excited to come out with step 2 of this plan. Our 'Teak' collection focused heavily on lightweight and breathability, but it lacked in 1 area: performance characteristics. We knew this from the beginning, which is why we knew that we had to develop a performance shirt unlike anything else on the market….. and that's exactly what we did. 
We named it 'Billfisher' as a tribute to the Duffie family who has shown us time and time again what excellence in our sport looks like.
Why we made this:
With Billfisher, we set out to create a product that would function as a tool for outdoorsmen that focuses on function and performance, not just aesthetics. We developed features like the button closure for additional sun protection and doubled-layered cuffs for wrist protection, things that outdoorsmen don't just want but actually need. With Billfisher, outdoorsmen can put this on and stay cool in the toughest conditions, specifically in high-heat environments, without sacrificing sun protection and functionality.
Performance Specs:

Billfisher's Fabric is made out of proprietary performance fabric. By combining Polyester and Spandex with state-of-the-art knitting techniques, we've developed a fabric that provides UPF protection without compromising breathability and Moisture Wicking characteristics. 
The Billfisher has a soft hand and will last incredibly wrong thanks to our proprietary knitting techniques. What we were specifically blown away with was the quick TTD (Time to Dry). We measured the TTD to be around <3 minutes, which is significantly faster than the 5-10 minute industry standard.
Features

Neck Snap/Button - The Billfisher provides extra protection thanks to its neck snap/button. With the ease of a snap, you can protect your upper collarbone and neck, permanently from the sun's harmful rays. The sun's harmful rays are a serious problem to outdoors enthusiasts, this helps solve that problem. That's why we refer to the Billfisher as a tool and not just a shirt because it's more than just a shirt. It's a piece of equipment that not only enhances our outdoor experience but more importantly, provides protection ensuring we can continue to enjoy the outdoors for as long as possible. These are features that outdoors enthusiasts don't just want, but actually need.