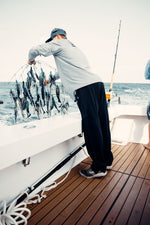 The Evolution of Dredge Fishing for Sailfish
February 22, 2022
In this blog post VJ Bell, Anthony Pino & Nick Carullo Talk about the change of dredge fishing in different times & in different places, how Anthony doesn't pull dead bait dredges and how other guys only pull dead bait dredges.
VJ Bell runs a boat in Stuart called the "Unbelievable".VJ Bell grew up in Virginia, just south of Moshe city. He is a business steward, big game fishing, where he does some chartering when the owner is not using the boat. The boat is a 61 Ritchie Howell. We've added a short summary of a conversation we recently had with VJ Bell on our Podcast. 
"VJ Bell: Technology's changed a lot, we have good winners and we have bad winners. When I came to Stewart in the late eighties, there were a couple of guys pulling dredges, maybe Dave Berard would. I remember guys rigging one on the dock before a tournament there. They'd done a lot of tuna fishing up north with guys pulling the umbrella rigs and all that stuff. But to my knowledge, Dave was the first one that was doing that. On a daily basis, we'd gather and pull a couple of squid chains. It was a rarity for us to pull a dredge every day until my second or third year on the bone shaker, we kind of started doing that on a regular basis. It wasn't just a tournament thing. What we'd pull were smaller, nobody ever put 50 mullets on a, on a dredge back then we might pull a double or something with a dozen mullets on it, or, you know, 18 mullets at the time. But to see that the amount of preparation and the amount of work that goes into it sure. Seems like it's increased a lot since back then.
Some mates will say it's a pain in the ass to work up in Stuart. There's a lot of preparation to go out there and catch some sailfish. You know, we enjoy it. I enjoy the troll and enjoy the payoff. We were deboning some mullets the other day and my mate was like man those kite guys have it made. I go yeah, but that's a lot of work too. Some of these guys go and catch all their own bait, pen it up. It's not like that for us. If we get live bait out here, we'll stop and catch three or four dozen and then call it good or stop and buy a couple dozen. But more often this time of year we're trolling. I guess we're used to it but a lot of guys that pass through say man, that's a lot of work for a sailfish and they're right. That's a lot of work, tough place to be a mate.
Anthony Pino: That's cool though. It's a good training ground man. There's a lot of good trolling fishermen that come out of Stuart. I think it's good.
VJ Bell: Absolutely. I think so. How about in ocean city, Anthony? Are you still pulling a mixture of stuff? Some mullets? A lot of mullets?
Anthony Pino: On my boat, we did not fish dead bait on the dredge for the entire summer. 
VJ Bell: Well, to be fair you guys have great access to squid dredges (Anthony's uncle owns Squidnation Tackle) so you have pretty good access to squid dredges.
Anthony Pino: I think there's plenty of boats that still do the mullet and ballyhoo  with the tournament's. I think the red squid dredge in the right areas is really something to think about when you're in there, when you're on the edge and the squids are balled up there. There's plenty of people that still rig a hole whole dead bait dredge just in case. I had always kept a mullet and a ballyhoo dredge ready in the freezer just in case we needed to switch. We just never did it. This year there wasn't a big fleet and you'd wouldn't have to out present people like you do in Stuart. I feel like it is very important that you just have to be in the right area and get a little luck to find the right conditions. Most of my best days I didn't have a boat around me. It was a very different year, but I think that that's what let me be able to use the squad dredges versus having dead ballyhoo or Mullet."
If you've enjoyed reading this blog post you can listen to the full conversation here: EP30