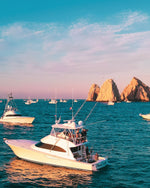 Obsessed with fishing Team "Puravida"
March 14, 2023
Today we are joined by the owner of "Pura Vida" and two of the anglers on the team. The anglers and owner of "Pura Vida" a 55 Viking haven't been fishing for long but they sure love it, they got into it because they saw the videos of the Los Sueños triple crown and they knew they had to get down there, and now they are going to sell the 55 and receive a 68 Viking that has recently been taken out of its mold. Team "Pura Vida" is upgrading so they can do more long trips comfortably and stay out on the fishing grounds for a longer period.
The team from "Pura Vida" hasn't been marlin fishing very long but they have already felt and noticed how the fishing can change from day to day. Releasing a couple of sails and Blues and a blue 5 min before lines out the first day, doubleheader striped marlin bites the next day, and the third day not seeing a single fish, this is an example that anything can change in a matter of seconds when you are out there.
Great accomplish meets for the Team "Pura Vida" are:
Winning the Dorado in the Rockstar tournament is another special moment for the "Pura Vida" team. 
Being the 2nd place Release team in the Bisbee's Los Cabos Tournament.
Coming in 5th place in a Costa Rica Los Sueños Leg, after the first day standing in first and the second day being in second they didn't see fish on the third day so they went down to 5th.
Please enjoy the full episode below:
You can also listen to the episode on the following locations: Youtube, Spotify, and Apple Podcasts