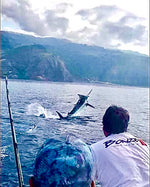 Artist and Angler Ft. Carey Chen
March 16, 2023
Today we have Carey Chen he is an Artist and Angler fishing and drawing around the world, chances are you have seen his work. He makes a lot of art for tournaments and shirt designs for some boats. Carey doesn't just draw he is also active in the cockpit trying to catch some Marlin. There was a time he would go to 50-60 fishing events every year to make artwork for these tournaments and to fish in them.
He never studied art or took classes, he one day saw paintings of marlin and decided to give it a try turns out he had to allot of talent for this craft and he knew the colors of these magnificent fish since he was catching them. Carey draws all his paintings from his mind he doesn't need a picture or a template to draw his paintings. 
His favorite fishing destination is Madeira, he used to fish in rough weather for a higher number of fish now he prefers to go to calmer seas and catch fewer fish but with bigger sizes, Madeira is his favorite place to visit the has been visiting every summer for the last 8 years.
Carey has caught many Marlins in his lifetime but is now on the pursuit to catch himself a Grander, he has had many encounters with 800+ beasts but no sign of the Grander yet.
Please enjoy the full episode below:
You can also listen to the episode on the following locations: Youtube, Spotify, and Apple Podcasts