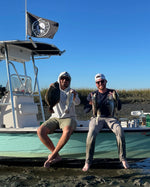 Qualified Captain Ft. Aaron Stasiak
March 31, 2023
Today we are joined by Aaron the one behind the Instagram page QualifiedCaptain, even tho it may look from the outside that QualifiedCaptain is just a para to make fun of boaters who make mistakes. It isn't just that it also helps people and makes people aware of boating safety and what to do in situations of distress.
Aaron is a spearfisherman and he understands how dangerous the ocean can be if you have doubts about the weather don't go out on your boat, and don't take a risk against nature.
Everybody has seen the videos of the cars backing up and going into the water. Take your time and be patient if someone offers help take it don't be stubborn and take the help if offered. Aaron himself has had a bad experience backing up the boat he backed up thinking his friend was holding the rope but the boat started drifting away.
Please enjoy the full episode below:
You can also listen to the episode on the following locations: Youtube, Spotify, and Apple Podcasts