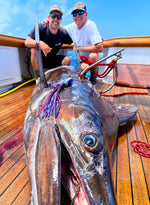 South Carolina Blue Marlin Invitational Tournament
April 17, 2023
Today we have Chuck Moore, Artemis  Express boat, that got fully refitted after being hit by lightning they added the game-changing Omni Sonar one of the few serious Express boats out there. Chuck has been on the Artemis for the past 5 years, he always wanted to fish with them as he fished with some of the o family in the past. Chuck has won a couple of t running the Artemis.
Chuck Moore is trying to bring some attention to the South Carolina Blue Marlin Invitational Tournament where there are currently 17 boats with a probability of going up to 25 boats participating. With time they are trying to make this an event where they have activities, they already have gotten some serious sponsors and prizes for the fishing teams.
Anthony and Chuck talk about running the boat alone in the tower and having more people with you, how much more focused and intone you are to what is happening around you when you are alone.
Please enjoy the full episode below:
You can also listen to the episode on the following locations: Youtube, Spotify, and Apple Podcasts