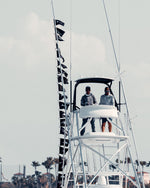 Fishing The Tower
March 15, 2022
In this blog post Mark deCabia, Anthony Pino & Nick Carullo Talk about fishing in the tower of the a Express sport fisher.
Check out this brief recap of the full conversation, which you can listen to here: Podcast. 
"Anthony Pino: Do you typically fish out of the tower?
Mark deCabia: I've been fishing more on the tower lately. The problem is my tower is really small. That means that all my electronics are downstairs. I only have one radio upstairs so it's tricky. When I'm out fishing, I use mainly use my eyes to find fish however as technology continues to get better I've found myself using the sounder and looking at all the transducers and the squid and everything else. I wanna make sure I have everything locked in and my tower legs are kind of full with all the wires so there's not a whole lot I can add to the upper station. I'll figure out how to get more electronics up there, that's on the list of projects as well. You could definitely do better being in the tower, but I don't have enough capability with the current electronics so unfortunately I'm usually downstairs.
Anthony Pino: You'd have to build a big box for all the screens that you could need. Then you also have to have enough space in the legs of the tower to pass all the wires.
Mark deCabia: I'd have to put the sonar dropping from the top of the tower and put the LP's somewhere lol. I told Tim at LP, he's gotta make me something! Even though he made that new bracket for the bridge boats, I'm like, well, what am I gonna do? So I gotta figure out a way to get those things up in the tower.
There's a lot of configuring that needs to happen, but once you have it dialed in it's awesome. I can see what's going on all the time. And in the morning, I usually drive from below. Being on a lower center of gravity, I don't get my ass kicked as much. Especially when we're doing this early morning troll and control at three in the morning, four in the morning and trying to catch big eyes and stuff like that.
However, I do miss all the electronics and stuff. Because we all rely on them. It's nice though but I can't picture myself running a bridge boat right now. I've always wanted a bridge boat though, especially the 62 and 64 Vikings.
If you've enjoyed reading this blog post you can listen to the full conversation here: EP46