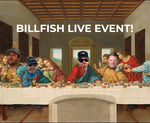 Billfish Live Podcast Event in Miami!
February 07, 2023
We're bringing the sportfishing community together - we're doing a live podcast in the birthplace of our brand, Miami FL on February 16th! Hosts Nick Carullo and Anthony Pino are going to be joined by Quinton Dieterle and Art Sapp. I grew up reading articles about these guys so having them at our Live Event is beyond exciting!
Art Sapp is one of the OG's in the south Florida fishing scene, basically pioneering the center console fishing platform with his topless Sea Vee boats! Quinton has won countless tournaments as the captain of the "Get Lit" and now runs the "Contender One" and has won numerous tournaments on that rig as well. Both Captains fish a lot and the results show.... Art, Quinton and Nick have all 3 won the Quest for the Crest Sailfish Series. Make sure to make use of this opportunity to ask as many questions as you'd like in the Q&A!!!
Everyone is invited, with the condition that you RSVP through the link. We will have strict security at the door so please make sure to RSVP for attendance by clicking on the following link: https://www.eventbrite.com/e/live-state-of-sportfishing-podcast-tickets-528638611317