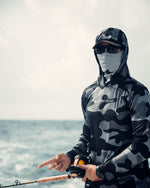 Revolutionising the media stack
November 08, 2021
I've recently seen a change happen in the media landscape. In the past, businesses had to either get on TV or be featured in a magazine to get their message out. As a result of this, they were at the mercy of privately owned media companies that are inherently biased. With the growth of social media, companies can now go direct to consumer and communicate with directly with their customers. It's because of that, that we've seen a serious disruption in the industry. 
Companies are now creating their own media publications and going direct to consumer, it allows us as passionate outdoorsman to engage with our audience directly and truly share our passions with our customers. With this in mind, I would like to introduce you to our media division, called 'State of Sportfishing'. e debuted our media arm with the release of our podcast which is hosted by Nick Carullo and Anthony Pino. We also have a newsletter which is still in development but will be released November 8th 2021. 
As time goes by, we will continue to invest and develop this model. Media companies have long been complacent, it's time for small business to build their own media stack and in that process support each other by collaborating with them, as we have with numerous guests on our podcast. 
We will be updating this blog weekly and talking to interesting guests from our industry, with our next blogpost being a summary of our conversation with John Floyd, president of F&S Boatworks. If you have an idea for a cool guest, please reach out to us and we'll get him/her on our podcast.