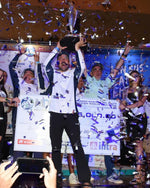 State of Sportfishing EP84 - Tuscan in Mexico
December 13, 2022
In today's podcast, we're joined by Eduardo Maldonado. Eduardo Maldonado is a self-taught 4th generation fisherman, from Tuscan in Mexico. Starting fishing on a 23-foot Robalo learning and trying everything. He talks about how it was hard to start in Tuscan because there are barely any Blue Marlin bites compared to other places, but the sword-fishing is fantastic.  
He mainly learned his tactics from fishing from in Costa Rica, Cabo, and Cape Verde. Tuscan, Mexico, is on the gulf coast on the Mexican side, located between Vera Cruz and Tampico. These are the two biggest fishing cities on Mexico's gulf coast. Tampico isn't known for providing large numbers of bites, but instead its known for producing big aggressive marlin.
Vera Cruz hosts a big annual Tournament in September, it's a triple leg style tournament similar to the Triple Crown which takes place out of Los Sueños, Costa Rica. The tournament down in Vera Cruz has its own sets of rules and a 4-leg tournament. Each year, it attracts about 50 to 60 boats most of which being Texas based operations. Eduardo recently won the 2022 series!
Please enjoy the full episode below:
You can also listen to the episode on the following locations: Youtube, Spotify, and Apple Podcasts