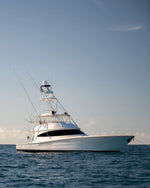 State of Sportfishing EP80 - Captain Ian Weber
November 08, 2022
On today's episode, we're joined by Captain Ian Weber, Captain of the 80' Viking Yacht 'Frigate' which is a part of the famous Carl Allen Fleet. Carl Allen recently purchased Walkers Cay, an island in the Bahamas which is famous for its world class fishery. You can listen to the Podcast with Carl here.
On this episode, Ian shares his story about how he started working for Carl Allen, different trips he did and upgrading from a smaller 52' Viking to now running an 80 Viking Enclosed Bridge Yacht. Ian also talks a little about what the future is to come & Treasure hunting. 
Enjoy and let us know your thoughts below in the comments section!
You can also listen to the episode on the following locations: Youtube, Spotify and Apple Podcasts