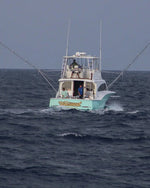 State of Sportfishing EP85 - Jay Watson
December 24, 2022
In today's podcast, we're joined by Captain Jay Watson. Jay Watson is Captain of the widespread and runs charters thru summer and winter. Jay Watson is from north Carolina, currently entering his 15th fishing season.
Jay fishing from Hatteras inlet and Origin Inlet even tho not far from each other around 40 miles apart, completely different fishing styles are used in the locations, which in theory he says should make you a better fisherman. Jay used to do a little commercial fishing, which helped him understand the water temperature, and current, and how that affects his fishing.
Jay Watson won the 63rd annual Big Rock tournament with 3 teenage boys. Randy Ramsey told him that he doesn't know of any other 19-year-old that has weighed such fish, at such a major event. 
Please enjoy the full episode below:
You can also listen to the episode on the following locations: Youtube, Spotify, and Apple Podcasts