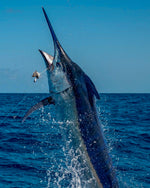 State of Sportfishing EP87 - Daniel Klein
December 27, 2022
Today we're joined by Daniel Klein, Daniel runs the boat "Deploy" a custom 58 assegai. Daniel is based on the east coast of Australia, you can check him out at the pursuit of giants game fishing, where you can find a bunch of his awesome marlin adventures. Daniel Klein explains the process and what goes into fighting a giant fish, how to leader the fish, and how to fight the fish so you don't lose it. 
Fighting giant marlin is hard even on heavy tackle, important is to try to not get the fight to end up as a straight up-and-down fight that's a battle you won't win. Try to hold the fight on an angle and back down with a corner so the edge breaks the wave and goes a little easier.
Leadering a giant marlin isn't something you can learn easily learn, the technique is all that matters know when to let go, and when to do another wrap, the best way to learn this is to treat a small marlin Sailfish, White Marlin, or Striped Marlin like any other Giant Marlin, so you won't mess up on the leader when leadering a 1000 LB Marlin, forget all the fancy raps and stick to what works.
When you are boarding a grander something is bound to go wrong for sure if your rushing it, whether it's breaking gear, or damaging the boat your gonna do damage in the process. The idea of boarding a massive Marlin isn't how it used to be it's all about seeing the beautiful Marlin jump behind the boat now.
Please enjoy the full episode below:
You can also listen to the episode on the following locations: Youtube, Spotify, and Apple Podcasts