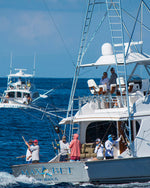 State of Sportfishing EP89 - Austin Robins
January 12, 2023
Today we are joined by Austin Robins, captain of a 66 Spencer "Max Bet" which travels between Maryland and Costa Rica. Austin Robins goes head to head with some of the best teams, today we hear some crazy stories about Austin leading his team to 3rd place in Los Sueños, Costa Rica.
Austin didn't start working as a captain or a mate because he always wanted to from a young age but because the company Austin was working for got to go install carpets in a couple of boats at Oregon Inlet, on one of the boats they asked him if he wanted to ride along and so he did, that turned into riding along on a couple of boats, cutting bait grading Ice and so on that progressed. The funny thing about his s is that he never had any fishing experience, but just love the outdoors.   
Running the "Max Bet" a 66 Spencer, Austin first started getting the anglers dialed in, by analyzing what went wrong if they backlashed if they missed a fish what happened to want should have been done differently, now Austin is the captain of the "Max Bet" with confidence in what is going on in the cockpit, where everyone knows their role so nobody will stand still when the fish strikes everyone will know what to do.
Please enjoy the full episode below:
You can also listen to the episode on the following locations: Youtube, Spotify, and Apple Podcasts