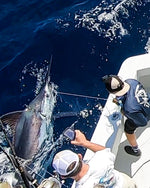 State of Sportfishing EP93 - James David
February 09, 2023
Today we are joined by James David a 23-year-old mate who started on the 46' L&H Charter boat out of Miami, James grew up fishing with his family and has seen more than most by being a world record holder. James has focused most of his fishing career as a freelance mate and record holder, after graduating and has seen many places most just dream of going to.
James loves his position in the cockpit because he's in the action, you get to hook the fish and sometimes fight the fish. Leader the fish till you come face to face with the magnificent beasts we call Marlins even tho he wouldn't mind becoming a captain because any day fishing is a good day.
Releasing quad Blue Marlins with Nick Carullo in the DR back when Nick Carullo was running the Temptress, after hooking the four Blue Marlins James fought one of the Blues till the knot twice and managed to gain back the line.
 Please enjoy the full episode below:
You can also listen to the episode on the following locations: Youtube, Spotify, and Apple Podcasts