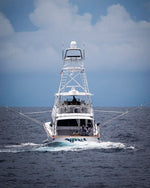 State of Sportfishing EP94 - John LaGrone
February 14, 2023
Today we are joined by John LaGrone, Captain John LaGrone leads yacht sales in sport fishing and maintenance teams at Galati at the beautiful Los Sueños Resort in Costa Rica. Captain John is an icon in the sport fishing industry. His impressive global fishing experience, IGFA world records, and tournament victories speak for themselves.
John LaGrone recently had an amazing performance in the Los Sueños, Costa Rica Triple Crown tournament. John had seen something on the sonar the team decided to head that way, getting close John thought it was either a group of bait or it was going to be a family of sails. Lo and behold, it was a family of sails. Hooked and released a quad of sails then.
The day before something similar had happened with Blue Marlins, at the end of the day he saw a little mark and they just kept working on it and went over on top of it, and then they raised hooked and release a doubleheader Blue Marlin. 
If you want to hear more of these stories and learn some more about John LaGrone don't forget to check out the podcast.
Please enjoy the full episode below:
You can also listen to the episode on the following locations: Youtube