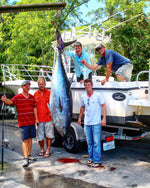 State of Sportfishing EP95 - Capt. Dom Petrarca
February 16, 2023
Today we are joined by captain Dom Petrarca from Coastal Charters Sportfishing he focuses on light tackle fishing for bluefin tuna, using popping and jigging techniques to get the hook up on some giants. Capt. Dom hunts the bluefin tuna from the land he says, he trailers to where the fish are to go after them. For his boat Capt. Dom runs a 29' SeaVee with twin Mercury 225. 
Captain Dom Petrarca has been focused on specific Blue fin tuna fishery for over 18 years, before that he did some more inshore fishing on a 20 ft boat he had. Now he's seen it all boarding a 700-pound of Bluefin tuna, two 600-pounders, and several 500-pounders. Capt. Dom has caught a Mola Mola, which he has no idea how since everybody says Mola Mola doesn't eat lures. White Marlin is another species that he consistently comes to find year after year at different times of the year.
If you want to hear more of these stories and learn some more about Captain Dom don't forget to check out the podcast.
Please enjoy the full episode below:
You can also listen to the episode on the following locations: Youtube