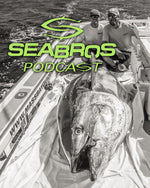 State of Sportfishing EP98 - Bryan & Taylor Seabros
February 28, 2023
Today we have Bryan & Taylor. Bryan and Taylor, run the SeaBros Podcast, they are two brothers who grew up on the water and fishing all the time, and now they have a really successful charter Business Family operated as they all work together and their dad is also in the operation. Here we will check some topics they discussed on the podcast about Dart Line and Successful charter fishing.
Darting a giant blue Finn tuna or marlin is safer than Flying gaming them the reason being you don't have to get the Marlin Tuna right next to the boat to be able to stick your gas in him the fish can still be 20ft down or back and you can dart him, the chance is smaller of Marlin jumping around or taking an angler or mate overboard when they gas the fish. Usually, 2 of the 10 Giant tuna will take off running when you dart them that's because you probably fought that fish for a short amount of time, it still has a lot of energy, that's why you should have 600 ft of dart line in your basket and not the 50-60 that most people have on their boats.
On the topic of a successful charter business and getting repeating clients Seabros then talked about you have to have good jokes, need to read the room when it's time to be serious, educate them, or joke around. Keeping your boat nice and clean doesn't mean you need a paint job but don't have everything in its place, not everything tossed around the boat. Have a book or some pages of catches you have caught so the clients know it's possible and on the way in maybe book another charter for a chance to one of those catches.
Please enjoy the full episode below:
You can also listen to the episode on the following locations: Youtube, Spotify, and Apple Podcasts