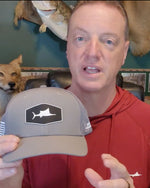 Teak Hooded Long Sleeve Review by Blue Line Fishing
December 07, 2022
Eric Krogman from Blue Line Fishing reviewed the Teak Hooded Long Sleeve, what we believe is the perfect fishing shirt. 
Eric dove into the details and touched on a lot of key features that we find to be extremely important. He touched on the weight of the garment, fabric composition, UPF protection and the breathability of the garment. Eric also briefly reviewed our Trucker Series Hats and Pro Series Hats!
See below for the full review!