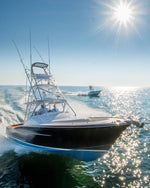 Tim Winters Take on Wooden VS Composite Hull
March 29, 2022
In this blog post Tim Winters, Anthony Pino & Nick Carullo Talk about the Composite hulls & Wooden hulls and which one Tim Winters Truly prefers.
We have added a summary of a conversation we recently had with Tim Winters on our Podcast. 
"Anthony Pino: Tell us, are you a wooden guy or are you a full composite guy? We talked to John Floyd he is very adamant about the Woodhull and I got Duffy here & he is still very adamant about the Woodhull as well. What is your opinion on that? Or do you just do what the customer asks?
Tim Winters: Well, I think there is a fine line. Why people feel comfortable with the wooden hulls I understand where they are coming from. I came into this industry, not from a fishing aspect, but I have progressed and now I'm an engineer by trade. I want to understand why the wood hull is better versus the Composite hull. For me, it is not enough for someone to tell me that wood hulls are better. I truly need to understand why. I know for a fact that we can engineer a composite boat with the same characteristics or similar characteristics as a wooden boat. 
To answer your question. I am not a wooden guy across the board. I think there are certain applications where a composite hull makes a lot of sense. If you've got a boat that you're trying to push that envelope on. The only way that you develop speed is by building a lighter boat. We keep throwing horsepower at it, but sometimes you have to address the elephant in the room & we gotta build boats lighter. Quite frankly, nothing is being done today from the customer's perspective to help us do that. They want to have a sick Presentation. 
Now you can't just have a water maker. You got to have a spot zero. Now you can't just have this or that you need everything. Then the boats will become lighter but there is more machinery on the boat so the boat will maintain its wait. When you're thinking about it, somebody comes and presents you with something that they want, like hull 38, 30, 36. These clients come up to us with a very specific brainer. To be honest with you, how many people try to build a 50? I mean, it's a lot, everybody wants to build one. If you look at the guys at F&S they built that express boat that had a pair of 26 hundred in it, and I think that boat was up there. I heard it was over 50 knots, but there's this elusive 50 number that we all try and chase nowadays. How do you get there? I think it's with the composite Boats.
I think there's no question that it would rise differently, Sound differently. The two have no comparison and honestly if Tim Winters would have to build a boat for Tim Winters. It's going to be a cold-molded boat. I liked the strength of it. I like every characteristic about it but you can't expect to do something that hasn't been done by doing the same thing over and over again. I'm all about shaking things up, switching things up."
If you've enjoyed reading this blog post you can listen to the full conversation here: EP27