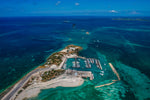 Walkers Cay
April 05, 2022
In this blog post Carl Allen, Anthony Pino & Nick Carullo Talk about how Carl Allen got to achieve his dream of owning and repairing Walker Cay Island so that others in the sportfishing community can visit and experience what Walker Cay has too offer.
We have added a short summary of a conversation we recently had with Carl Allen on our Podcast.
"Carl Allen: I've been all over the world hunting and kind of stopped doing that when I retired and I just focused on fishing. When walkers came available, I got a chance to bring back to the sports fishing Mecca that it's so well known. It's probably the biggest part of my dream come true. All the aspects of walkers, but specifically the sports fishing & bringing that back.
Anthony Pino: Did you always want to be the owner of the Island? I know it fell into disrepair after a storm in the early two thousand? Correct.
Carl Allen: In 2004 it was hit by two storms back to back Jeanine and Francis. But it pretty much decimated the island and she sat there like a rock. There's a whole generation that doesn't really know what Walkers is. I wanna bring those people in and add to the younger crowd.
Anthony Pino: Did you always feel like you wanted to own it or was it when the storms hit and it feel into decimation that inspired you to want to restore it?
Carl Allen: I think I was always in love with Walkers. I mean, coming over the banks when I was 12 and seeing walkers. I was going, my God, think of the life these people have and since then it's always been a dream to own it. Luckily, I had a very successful business which I sold five years ago... so me and my wife kinda looked at each other... what are we gonna do?
The last time I went to Walkers was 2004. I brought my kids out there together with me that year. We'd run down the runway, and check out the old church and, and stuff like that. But I think it was around 2015 that I realized all these deals have been breaking up with walkers. So I thought to myself: why isn't it selling to somebody? This is a gem!
A lot of it had to do with the family that owned it, they didn't wanna sell it to a corporation. They wanted to sell it to another family. So it took me literally a year to finalize it all. I spent a lot of time talking to the family in New York who owned it, it was really important to them. The previous owner, She's 95, is super sharp and remembers everything about the island. I think it was really important to her that she sold it to a family that truly cares about the island, understandably so. After numerous talks, we closed in april 2018
The thing I say makes Walker's special, is that it's where the bonefish meet the billfish and everything in between. I could sit here for hours and talk to you about what we do every day out there. I have a rule that we have to catch at least one fish every day... and so far we're at 100% wit that."
If you've enjoyed reading this blog post you can listen to the full conversation here: EP47