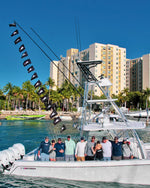 Sailfish Challenge With JC Cleare
March 08, 2023
James Cleare joined us on the State of Sportfishing podcast after his big Sailfish Challenge Win, James used to fish with nick for 15 years last year they separated Nick moved to the Frontrunner and James went on to run a contender doing charters and the Tournaments. The boat JC runs a Contender with the REMIX team.
JC Cleare caught a six-banger at the beginning of the day, which put him in the lead of the tournament, he kept the lead during the whole tournament he speaks on how its the worst place to be even tho you are winning you are constantly concerned that some other boat is going to catch more than you, but too look back at it and be able to say that you held the lead during a whole tournament is pretty cool to say.
Before JC caught this six-banger he was on the phone with nick who was fishing nearby. JC said one of us is going catch them right at lines it always happens and so it did in his favor.
Please enjoy the full episode below:
You can also listen to the episode on the following locations: Youtube, Spotify, and Apple Podcasts