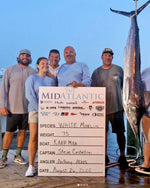 Winning $871,404 in the Mid Atlantic Fishing Tournament
October 25, 2022
On the latest episode of 'State of Sportfishing' , we sit down with Cody Puller from team 'Kaarmaa' out of Cape May, NJ who won the 2022 Mid Atlantic 500 Billfish Tournament.
Cody is a dear friend of the company, so we can't be happier for him and his team on winning the tournament. 
Cody is wearing our Teak Hooded Long Sleeve in midnight blue.
Please enjoy the full episode below:
You can also listen to the episode on the following locations: Youtube, Spotify and Apple Podcasts